Our adoleo Executive Search is a unique opportunity for your company to win leading thought leaders for management positions and board positions. The special feature of adoleo is that we have an active network of DAX Chief Digital Officer and can, therefore, reach candidates for your projects that would be very difficult or even impossible to reach in the normal market.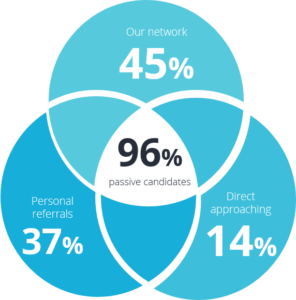 On average, 96% of the candidates we contact are also passive. This means that they are not actively looking for a job and would therefore not necessarily respond to direct contact from company-owned recruiters or ordinary headhunters.
At adoleo we also work strongly based on recommendations. Our very good public ratings testify to our good work. Accordingly, candidates are happy to recommend us to colleagues and mentors. As a result, our unique network grows away from publicly accessible platforms such as LinkedIn or XING.
Our research team is trained internally and often has skills from the respective departments. We attach particular importance to familiarizing our researchers directly with the digital matter. For example, this website was developed, designed, and programmed in-house by adoleo in Cologne.
Our researchers also undergo regular training, including from Google, Amazon, Salesforce, and many more. to become familiar with the matter itself. This ensures the best possible implementation of your project at adoleo.
The service areas of adoleo Executive Search:
Fast, discreet and technically excellent filling of your vacancy
Organizational advice on target structures on request
The results of management diagnostics are often important arguments for C-level candidates to approach their company
There is the possibility to develop job descriptions for managers, VPs and board members based on our expertise
The adoleo Executive Search uses the hidden search as standard and is therefore very discreet
All candidate presentations are GDPR compliant and can be audited by your company
Detailed (technical) assessment with candidates is possible
Extensive pipeline benchmarking on the technical and strategic side
and much more….
Please do not hesitate to contact us.